What is a Scotch oven?
Scotch ovens are traditional woodfired commercial bakers' ovens. RedBeard Historic Bakery's Scotch oven is about 140 years old.
A Scotch oven has an arched ceiling, a fire box on one side of the main chamber and a flue on the opposite side. The oven's shell comprises massive layers of brick and sand. The layers are tied together with steel rods so they can contract and expand without pulling apart.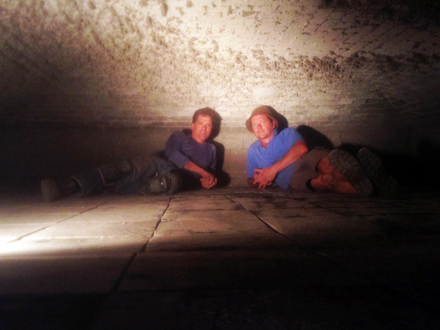 Above: Al and John Reid inside RedBeard's Scotch oven.
We reduce our greenhouse gas emissions by firing our oven with sugar gum sustainably harvested from roadside plantations in western Victoria. Harvested trees are replaced ensuring that the carbon released when the wood is burnt in our oven is recaptured by the growing trees, making the process carbon-neutral.
Why is a Scotch oven so good?
A Scotch oven stores heat wonderfully well in its massive masonry structure. The fire is extinguished before baking commences and the bread is bathed in deep and even heat that is gradually released by the bricks and sand.
Most modern bakeries now use electric or gas multi-level deck ovens. In recent times they have tried to recapture the benefits of thermal mass by reintroducing fire bricks on the floor of each level, but the bread produced is still inferior.
RedBeard's oven weighs 75 tonnes and stores enough heat from one firing to bake 1,000 loaves. The floor of our oven measures 16 square metres.
Why are Scotch ovens so rare?
Scotch ovens were once the most common commercial ovens in Australia. Scottish engineers built them throughout the British Empire for over 200 years.
However, only a few Scotch ovens remain because by the 1950s most had been bought and destroyed by the large flour millers to eliminate competition for their new supermarket breads. RedBeard's working oven is a rare and remarkable remnant of baking history.

Below: The firebox.